Summer Movie Guide 2012
I'm one of those people who loves the physical experience of going to the movies. I am by no means a movie buff or expert, but I do get out to see my fair share of films.  There's something in the act of driving to the theater, ripping the ticket stub, buying snacks and choosing the perfect seat that just can't be replicated by sitting at home scrolling through Netflix, On-Demand, or whatever it is people use these days.
While moviegoing is a year-round activity, it just feels more appropriate in the the summertime.  Production knows that this is the harvest season for raking in box office sales, so many major films are slated for summer releases.  Along with some winners, there's definitely going to be a few duds in the summer of 2012 – here's what I'm most looking forward to catching this summer and what I'll be cool with missing:
TED
While at first the concept of Mark Wahlberg and his animated stuffed bear seemed really creepy and sad, I watched the trailer and was instantly reformed (the last minute is absolutely hilarious).  Ted is Wahlberg's childhood companion with a knack for trash talking, women and partying.  Add girl crush Mila Kunis to the mix and this film has got to be a winner.
Starring
: Mark Wahlberg, Mila Kunis, Seth MacFarlane, Joel McHale, Giovanni Ribisi
Director
: Seth MacFarlane
Plot
: 
Family Guy
creator Seth MacFarlane brings his boundary-pushing brand of humor to the big screen for the first time as writer, director and voice star of Ted.
SEEKING A FRIEND FOR THE END OF THE WORLD
Steve Carrell had me at "I love lamp" and Ms. Knightley was the only woman I thought deserving of Orlando Bloom in Pirates of the Carribbean.  But in all seriousness, the two are very talented actors – put them together as leading roles in an indie flick about two friends on a mission to correct life's regrets with 3 weeks before the Apocalypse and you've got great potential.
Starring
: Keira Knightley, Adam Brody, Steve Carell, Connie Britton, Rob Corddry
Director
: Lorene Scafaria
Plot
: "Set in a too-near future where time at once stands still and is slipping away forever, the writer/director explores what people will do and how they will feel when humanity's end is near."
SAVAGES
I love action films with hot people, and let's be straight – this movie is exactly that (Marry me, Taylor?).  While I'm not convinced that this is a top-quality production, I'm sure it'll be a solid summer action movie.  I'm also pretty intrigued by the whole three-way relationship between Ben, Chon and Ophelia….I mean something's gotta give.  Also pretty stoked to see Benecio and Selma Hayek together….they're like the ultimate on-screen couple.
Starring
: Taylor Kitsch, Aaron Johnson, Benicio Del Toro, Emile Hirsch, Blake Lively
Plot
: "Laguna Beach entrepreneurs Ben (Johnson), a peaceful and charitable Buddhist, and his closest friend Chon (Kitsch), a former Navy SEAL and ex-mercenary, run a lucrative, homegrown industry–raising some of the best marijuana ever developed. They also share a one-of-a-kind love with the extraordinary beauty Ophelia (Lively). Life is idyllic in their Southern California town…until the Mexican Baja Cartel decides to move in and demands that the trio partners with them."
THE CAMPAIGN
F yes.  Ferrell and Galifinakis have got to be a match made in comedic heaven.  This appears to have the same dry humor as Anchorman but with a fresh concept.  Maybe it was Ferrell's SNL Bush impersonation from back in the day, but I can totally visualize him running for office and hence the experience would be this movie.
Starring
: Will Ferrell , Zach Galifianakis , Jason Sudeikis , Katherine La Nasa , Sarah Baker
Rating
: Not Yet Rated,  but hopefully R
Plot
: "When long-term congressman Cam Brady (Will Ferrell) commits a major public gaffe before an upcoming election, a pair of ultra-wealthy CEOs plot to put up a rival candidate and gain influence over their North Carolina district."
CELESTE AND JESSE FOREVER
This Sundance film looks really sweet and interesting – I feel like the movie's plotline allows for Rashida Jones and Andy Sandberg to genuinely showcase their acting abilities (unlike Sandberg's role in That's My Boy – see below).  Dubbed by critics as a close relative of the classic When Harry Met Sally, it seems as if this film relays some lessons in the realms of love, friendship, career, and what's really important in life.
Starring
: Emma Roberts, Rashida Jones, Elijah Wood, Andy Samberg, Chris Messina
Director
: Lee Toland Krieger
Plot
: "Celeste (Rashida Jones) and Jesse (Andy Samberg) met in high school, married young and are growing apart. Celeste is convinced that divorcing Jesse is the right thing to do — she is on her way up, he is on his way nowhere, and if they do it now instead of later, they can remain supportive friends. As the reality of their separation sets in, Celeste slowly and painfully realizes she has been cavalier about their relationship, and her decision, which once seemed mature and progressive, now seems impulsive and selfish. While navigating the turbulent changes in their lives and in their hearts, these two learn that in order to truly love someone, you may have to let them go."
THE DARK KNIGHT RISES
Well, this shouldn't come as a shocker as a  "must-see" on my summer movie hitlist.  The highly anticipated third and final installment of the Dark Knight series is, according to director Chris Nolan, "the biggest (film) anyone's done since the Silent Era."  Those are bold words, even for him.  While Ledger might be gone and Anne Hathaway steps in to play Catwoman (not too keen on this), I'm looking forward to seeing how this trilogy wraps up…as well as bearing witness to some killer IMAX action.
Director
: Christopher Nolan
Starring
: Christian Bale, Michael Caine, Gary Oldman, Anne Hathaway, Juno Temple
Plot
: "Christopher Nolan's
Batman
franchise continues with this Warner Bros. release, the third in the series. The story will pick up after the events of
The Dark Knight
, with Christian Bale returning as the
Caped Crusader
— this time pitted against the deadly
Bane
(Tom Hardy) and Selina Kyle, aka
Catwoman
(Anne Hathaway). Nolan directs from a script he co-wrote with his brother, Jonathan, working off the story by David Goyer.  Joseph Gordon-Levitt co-stars."
Those were my top picks, but I think I'm going to skip…..
THAT'S MY BOY
Shit Adam and Andy, this looks really bad.  And it's actually unfortunate because the concept of a father and son so close in age could be really funny….kind of like an raunchy and classless male version of Gilmore Girls.  But the screenwriter really went for predictable, base humor and a predictable plotline.  I might see this just for the hell of it but probably not as I'm sure the critics are going to rip it apart.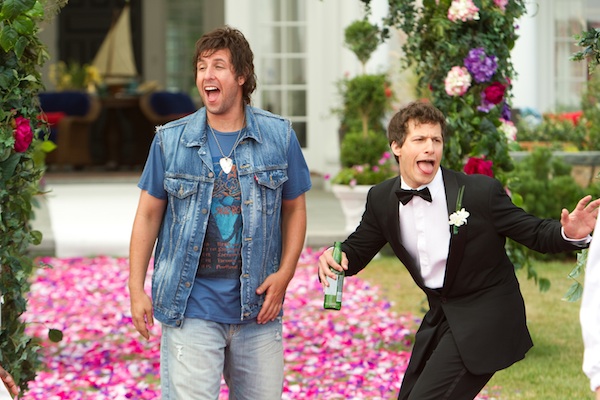 Starring
: Adam Sandler, Andy Samberg, Leighton Meester, Susan Sarandon, Milo Ventimiglia
Directors
: Sean Anders, John Morris
Plot
: "A single father finds his lackluster parenting skills coming back to haunt him in this Adam Sandler comedy penned by 
Role Models
 collaborators Ken Marino and David Wain, and co-directed by Sean Anders (Sex Drive) and John Morris."
THE WATCH
A stellar cast and a sub-par concept.  Hill, Vaughn, Stiller, and Ayoade unite forces as "The Neighborhood Watch," patrolling a community for alien life.  It just looks like something that wouldn't hold my interest past the first few minutes…I mean if the trailer doesn't have me laughing, and it's most redeeming quality is "Still D.R.E." playing in the first 30 seconds, then there's really no hope for the rest of the film.  Also, "sci-fi comedy" is a difficult genre to nail, so yeah….
Starring
: Ben Stiller, Vince Vaughn, Jonah Hill, Richard Ayoade, Will Forte
Plot
: "A group of guys stumble upon an alien invasion during a faux neighborhood watch meeting where they usually do some male bonding to get away from their dull suburban lives in this sci-fi comedy."
ABRAHAM LINCOLN: VAMPIRE HUNTER
Under different thematic circumstances, I would totally be into this film – the graphics look unbelievable, and it was produced by mastermind Tim Burton.  That being said, I don't think I can sit through two hours of "vampire hunting" in any shape or form…. it's like beating a dead horse with a stick – the subject is exhausted and I'm starting to resent the vampire craze that has taken over our culture and now started to rewrite our history.  The only reason I watch True Blood these days is to gaze at a shirtless Alexander Skarsgard and Ryan Kwanten for one hour every Sunday.
Director
: Timur Bekmambetov
Starring
: Benjamin Walker, Dominic Cooper, Anthony Mackie, Mary Elizabeth Winstead, Jimmi Simpson
Plot
: Abraham Lincoln is reinvented as a vampire-killing president in this Timur Bekmambetov-directed action picture starring Benjamin Walker, Mary Elizabeth Winstead, Rufus Sewell, and Dominic Cooper.
Pride and Prejudice
and
Zombies
author Seth Grahame-Smith adapts his own book for
20th Century Fox
. Tim Burton produces alongside Bekmambetov and Jim Lemley.
Well, I hope that this was somewhat informative and inspirational, and if not at least a little funny.  See you all at the mooooovies!
xoxo
Lucy